Many undocumented immigrant children in the U.S. are branded as DACA children by the political arena because of a governmental program enacted by President Obama to protect them. DACA or The Deferred Action for Childhood Arrivals was created to protect hundreds of undocumented children who were brought here illegally here by their parents because of wars in their country, poverty, or abuse (Rogers, 2018).  The DACA program gave immigrant children some of the benefits that American children had naturally, for example, the right to education and medical assistance.  However, president Donald Trump, decided to end the program, leaving thousands of children in danger of being deported back to countries filled with war and poverty (Rogers, 2018). In addition to these social stressors that DACA children and their families are facing, they also face a slew of other immigrant stress that is associated with discrimination, prejudice, and social inequity.
Most recently, I have seen, listened to, and read the prejudice and inhumane actions taken by our American government regarding illegal immigrant families entering this country at borders. Those especially hurt, traumatized and affected are the children being taken away from their parents sent to detention centers all over the United States. According to the Salvador Rizzo of the Washington Post new paper (2018), "detainees are being kept in bare-bones cells surrounded by tall metal fencing inside a sprawling facility with high ceilings. The facility resembled a large warehouse divided into cage-like structures housing different groups of people. … Several of the detainees wrapped themselves in the foil blankets as they sat on benches, the ground, or on modest mattress pads on the floor of the cells" (p.1).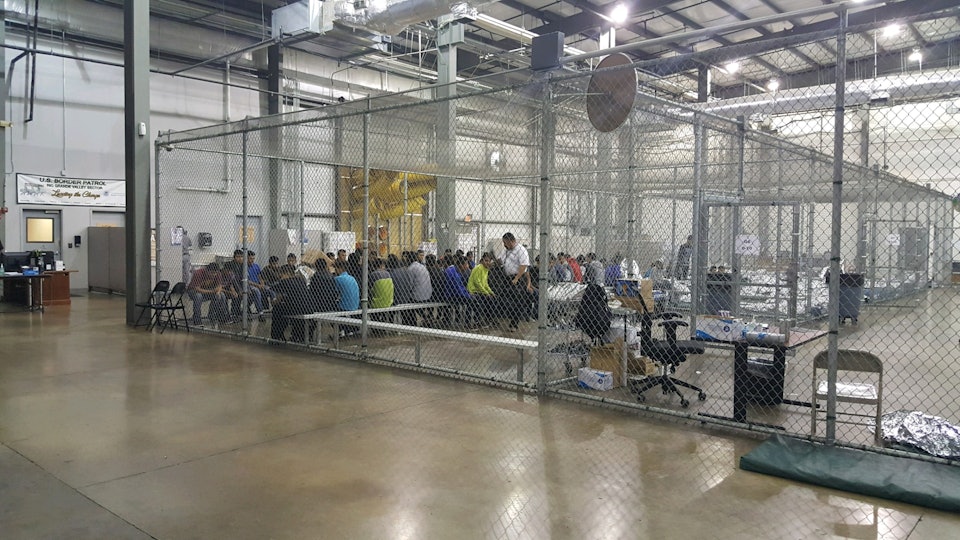 In another facility in Elizabeth, New Jersey where immigrant men and women are detained, detainees stated that "individuals who work in the kitchens complained that the food carts, trays, and dishes are frequently left unwashed and that when they are cleaned, dirty water is used to wash them. As a result, garbage and food waste often remain on the plates and trays" (Human Rights First, 2018, p.4). They also reported that immigrant men and women are also subjected to discrimination and prejudice from the staff in the medical clinic at Elizabeth. Staff at the facility reportedly call certain detainees "criminals" and mock patients who are returning to the medical clinic. According to two detainees, one nurse discriminates against non-English speakers, allegedly telling them, "If you want to be in this country, you have to learn to speak English." This same nurse also threatened one individual after he asked for medication, stating, "I will give you pills until you explode" (p.5). These are the narratives of helpless immigrants and refugees in detention facilities across the U.S.
Discrimination, racism, and social injustice are happening right now in the United States of America. Children are paying for the social beliefs, values, and unjust stereotypes of the dominant culture.  Families should not be torn apart. Children need to be with their parents and their traumatic experiences should be put to an end. For those detained in detention centers, they should be adjudicated expeditiously and humane conditions in the facilities need to be restored. Food quality should be improved and inspected regularly to ensure that unspoiled or uncooked food is never provided. Facility operators should increase oversight of detention facility staff to prevent maltreatment and discrimination of detainees.
As far as how they are being treated, the conditions are blatant racial assaults on a physical, emotional, psychological level. Only time will tell whether the children who have been through such traumatizing experiences will be able to cognitively, physically, or psychosocially develop without consequences of delays in the future. I suspect they will incur scars for a very long time. Santa-Maria & Cornille (2007), researched the experience of migration and exposure to civil unrest among undocumented immigrants and refugees can cause depression, anxiety, PTSD, and other hosts of psychosocial issues in children and families. Their results also proved that children and families who were separated from family members during migration had slighter anxiety scores and also that PSTD diagnosis for the whole sample group was significantly higher than the general population "which was about 33%" (p.29). Most importantly the rate of children who were diagnosed was even higher than the general population "which scored about 35%" (p.29).
The feelings that these immigration injustices beckon are feelings of sadness, anger, and shame. It is sad that as human beings we have not been able to transcend injustices such as prejudice and racism in the United States. Our country seems to repeat historical atrocities that continually prove the lengths that the dominant culture will go in order to remain in power. My hope is that people in our government from all political parties can put their differences away and simply fight for the rights of humanity. We are all apart of the human race, humanity links us all. Immigrant children and familiess are no different.
References:
ABC News. (2018, March 2). Conditions at Three New Jersey Immigration Detention Centers Are 'Harsh and Inhumane,' Report Says. Retrieved from ABC News New York: https://www.nbcnewyork.com/news/local/Conditions-New-Jersey-Immigration-Detention-Centers-Inhumane-Report-ICE-Asylum-475567253.html
Human Rights First Organization. (2018, February). Ailing Justice: New Jersey Inadequate Healthcare, Indifference, and Indefinite Confinement in Immigration Detention. Retrieved from Human Rights First Organization: https://www.humanrightsfirst.org/sites/default/files/Ailing-Justice-NJ.pdf
Santo-Maria, M. L., & Cornille, T. (2007). Traumatic Stress, Family Separations, and Attachment Among Latin American Immigrants. Traumatology, 26-31.